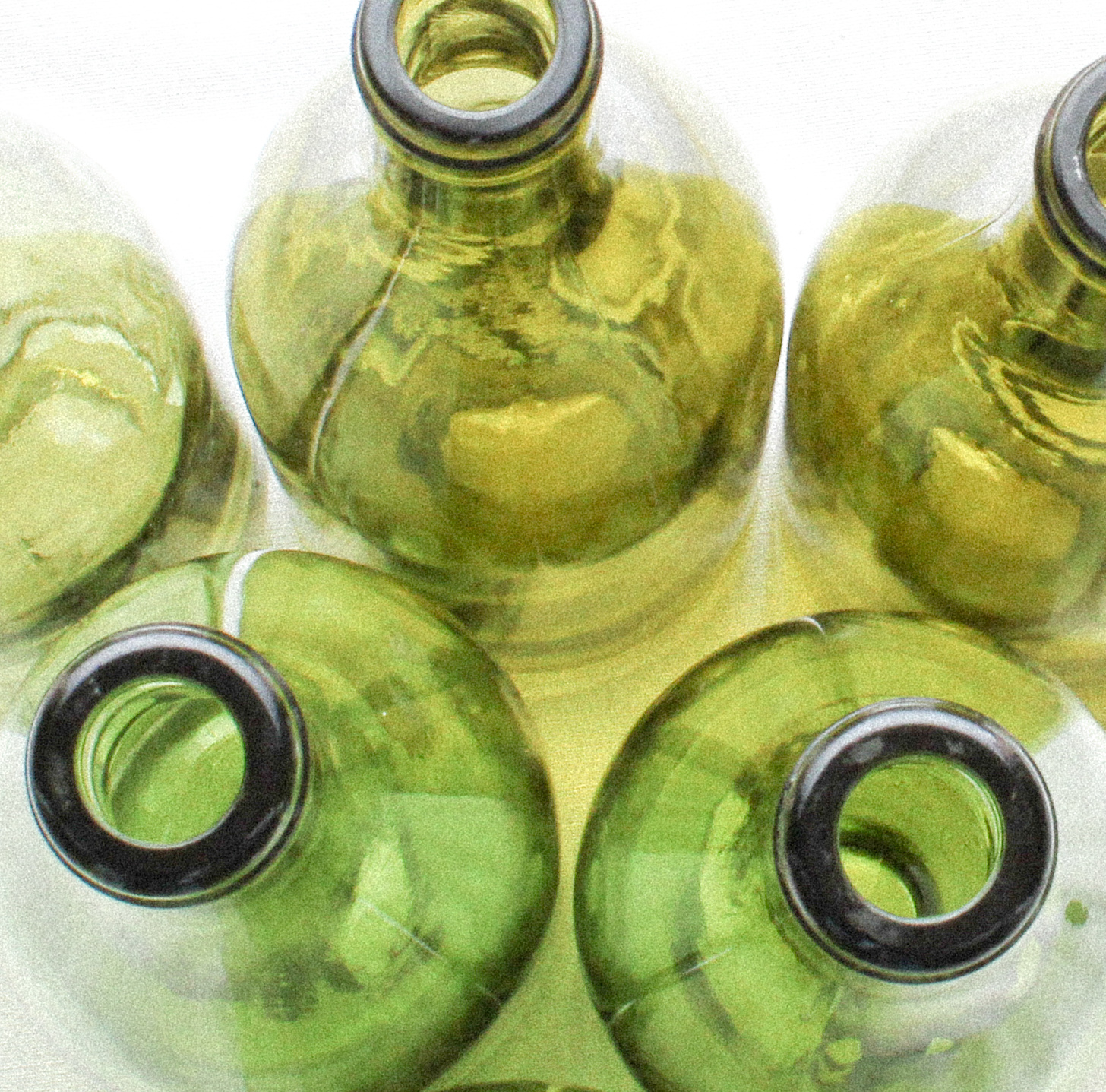 I design and make every piece in the collection individually, by hand in my home studio located in Burgundy, France. I collect discarded wine bottles that would otherwise go to the recycling bin and cut, drill, grind and kilnform the glass into different forms, leaving the glass more or less do its thing. I pair the glass with recycled sterling silver or recycled stainless steel to complete my designs and am completely satisfied knowing I have created something beautiful and delicate from trash. I am continuously inspired by the forms and colors of the surrounding hillside vineyards and guided by the ethos of slow fashion.

Working with glass is by nature a slow process. Heating and cooling phases cannot be rushed - production follows the rythm of the glass kiln. A noble material that demands patience and skill.

What started out as a personal project has progressively evolved into a different approach to sourcing and working with glass. Driven by the desire to create without creating waste, the decision to use glass destined for the waste stream in my designs was evident given the abundant supply of discarded wine bottles found here in wine country. Responsibly using resources, reusing existing materials, limiting/eliminating production waste and crafting a small collection of unique pieces designed to last is the "raison d'être" of High Hills Glass.


The permanent collection is made up of minimalist, timeless designs made to be worn from season to season, year after year eschewing trends.


Sustainable Materials
Recycled and Upcycled Glass
Made from 100% recycled glass and recycled metals.
Discarded Burgundy wine bottles are collected from friends, neighbors, local wineries and recycling depots in Côte d'Or. The bottles are cleaned and the labels removed using simply water, vegetable oil and baking soda. Never any harmful detergents.
Recycled Sterling Silver
The sterling silver used is sourced in France from a supplier currently in the process of obtaining membership in The Responsible Jewellery Council, the only independently verified sustainability standard for the global jewellery and watch industry covering the entire supply chain, from mine to retail.
The chains used in the designs are 100% recycled 925 silver, the bracelets, rings and other findings contain 50% to 60% recycled content. This precious metal is, of course, 100% recyclable. Our supplier is working towards fully recycled sterling silver findings and I will make that transition with them.
18K Gold Plated Sterling Silver
The same supplier does our plating with 1 micron of 18K gold on 925 recycled sterling silver.
Stainless Steel
Stainless steel is an affordable alternative to precious metals and extremely resistant. It is made from minimum 60% recycled material and is 100% recyclable. All stainless steel components used in designs are sourced in Europe.
Packaging
No plastics. All packaging has been thoughtfully sourced and is fully recyclable and/or compostable.
shipping boxes and jewelry boxes are FSC certified, made from recycled and/or recyclable materials and fully compostable.
the kraft packing tape used to seal the shipping boxes is fully recyclable /compostable.
earring cards and business cards are made from recycled paper.
cotton jewelry bags are hand stamped in house and can be reused for all sorts of tiny treasures.
Carbon Neutral

Great care has been taken to ensure that the least amount of packaging be used for shipping. Less for you to deal with when unboxing and less bulk in transport which allows me to send most orders as letters via La Poste.
French mail service, La Poste, guarantees the total carbon neutrality of all delivery solutions , including larger packages.